Introduction
HP Instant Ink is a service launched a few years ago with connected inkjet printers. I had to renew my cartridges and I asked myself the question of the purchase or the subscription, either I bought XL cartridges at 104.- CHF (about 97 €), or I took the subscription HP Instant Ink for 50 pages at 3.95 CHF (2.99 € / 2.99 $) per month, for the Swiss, hey yes as usual we "like to be plucked" by the exchange rate, after various calculations, I would need a little more 26 months to arrive at the subscription price, compared to the purchase of the 4 XL cartridges. Not to mention that within 26 months I will surely have already bought a 2nd batch ...
According to HP one could save up to 70% of these costs in ink cartridge. The cartridges that I received are special, they are filled much more than the XL ones, we can say that they are XXXL ;-).
For printing there are no page fill limits, a page can be text or a full page photo, it will be counted in the same way.
I am offering you a free month by clicking on this link: http://try.hpinstantink.com/CtLNz
Operation
Sign up for HP Instant Ink and choose the desired package between free and CHF 20.95 (free at € 19.99 / $ 19.99).
If not already done, you will be asked to register your printer with HP e-Print (creates an email address for the printer).
Wait for the cartridges to be sent, approximately 10 days.
As soon as your cartridges are empty, you can insert your new HP Instant Ink cartridges, they will automatically activate, the invoicing process will not start until the first printing.
As soon as the ink level low, the printer will automatically order the new cartridges, HP specifies that they will come widely before you run out of ink.
Packages
Switzerland

Europe

USA

The management interface
It is possible at any time to see its consumption, to modify its means of payment (credit card, PayPal or even by means of pre-payment cards available commercially).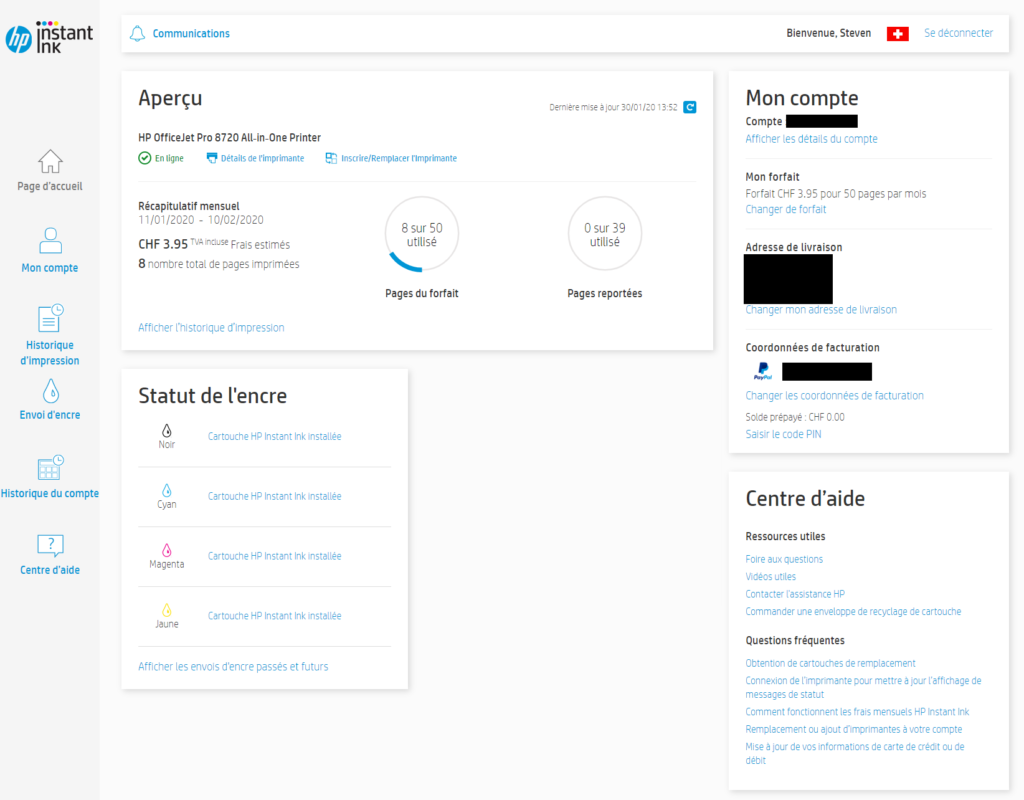 Modification of the package
You can change your plan at any time from your account HP Instant Ink, be careful if you have a paid account, it is impossible to subscribe to a free account, on the other hand it is possible to increase or decrease your package at any time. The entry into force of an increase in the plan can be made according to your choice during the current billing cycle or during the next billing cycle.
Cancellation of the package
For one reason or another it is possible to cancel your subscription directly from your account HP Instant Ink at any time, the contract will end on the anniversary date, example if it was signed on January 2, 2020, it will be terminated on February 1, 2020, it will be necessary to remove the HP Instant Ink cartridges and insert cartridges bought in stores , in order to return to a non-subscription method.
Upon termination, the HP Instant Ink cartridges deactivate and must be returned for recycling with the bag provided during the first order.
Ecology
So that your cartridges do not end up in the trash, but are recycled, with each delivery, you will receive a postage-paid envelope to return your used cartridges.
Then most of the components will be recycled and reused.
For more information on recycling, see this site:
So that your cartridges do not end up in the trash, but are recycled, with each delivery, you will receive a postage-paid envelope to return your used cartridges.
Then most of the components will be recycled and reused.
For more information on recycling, see this site: http://hp.com/recycle


My opinion
I use the service with great satisfaction for a few months, we will say that it is forgotten, except for the invoice which arrives automatically by email once the package is debited 😉
The fact of being able to adapt your plan at any time, that a certain number of unused copies be carried over to the following month is a welcome bonus. Black and white, full color, 10% coverage or 100% printing is billed as one page, so if you print a lot of photos or a well loaded presentation you are a winner 😉
If you want to test the HP Instant Ink service, I offer you 1 month subscription by clicking on this link: http://try.hpinstantink.com/CtLNz